What We Say
What is it?
I was fortunate enough to be able to test the Halo Pro front and rear dashcam package from Road Angel.
As we have come to expect from Road Angel, as soon as you open the box – even the packing feels very well made - and gives a feel of great quality from the start. This continues right through to the contents – everything was well-secured, in foam packing.
The instructions are easy to understand and have clear diagrams for setting it all up. The connecting cables are plenty long enough and the connectors are easy to use and feel secure. The connector to the front camera has a securing screw, to prevent the power lead from working loose with road vibration.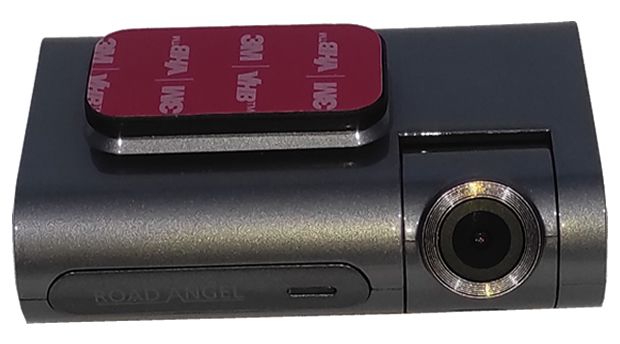 This test unit was fitted to a Volvo estate car - and had more than enough cable to reach the rear-view camera.
Fixing the camera to the windscreen needs some thought, as once stuck, it isn't really able to be removed and refitted easily – as it sticks so well! (You do get a second sticking pad for the front camera, should you need to move it to another position or another car in the future).
The unit slides on and off its windscreen carrier very easily - and is useful for taking the unit indoors if required. This also makes removal of the SD card much easier to accomplish.
The App was easy to install and I was able to easily adjust the angle of both cameras to ensure the best field of view both front and rear.
Once installed and linked to my phone, the unit set up without problems and confirms to the user that it is recording, and that the GPS is active.
I did notice that the snapshot sensor is quite sensitive, and a bump in the road can trigger the shutter sound as it takes a snapshot. I found that I could also tap the unit to replicate this if necessary. This could actually be very useful if you want to take a quick still image or whatever's in the camera view at any point.
The video is very good quality - 2K/1440p front and 1080p rear - and it's easy to scroll through to find a point in time from your journey. You can take a short segment of this portion and add titles and background music (although I didn't try the music out).
Downloading your footage to the app/phone isn't automatic. You open the app and then the 'phone connects to the Halo Pro wirelessly to download any footage from the camera.
Overall I'm very pleased with the Halo Pro - and definitely feel more confident about driving on busy roads knowing I have a record of who and what is around me.
I'm sure that when some drivers behind me saw the rear-view camera, they actually dropped back from tailgating me – which could be another added bonus of having the rear camera as well as the front!
Pro Tip:

If you think you can live without the rear camera, it's also worth looking at our top-rated dash cam - which coincidentally is also from Road Angel - the Halo Ultra. That one has the highest recording quality we've seen, but it is front camera only.
We liked:
Feels like it's really well-made (I'm sure all Road Angel products do/are!)
Easy to set up
The 3-year warranty is very reassuring
Recording both front and rear views gives great peace of mind
Sale
Bestseller No. 1
Road Angel Halo Go Dash Cam, 1080p 130° Camera with Super Night View, Built-In Wi-Fi, Winter Mode When Using Halo Drive/Go Hard Wire Kit, Black
Road Angel Halo Go 1080p Dash Cam, G Senor, Parking Mode, Night Vision, and Winter Mode with 3 Year Warranty
Super Optical 7-layer high grade lens and large aperture of F1.8 records at the highest quality day & night. Crystal-clear high-resolution video, perfect detail so if that times comes you can rely on your Road Angel to be your guardian angel!
ALWAYS ON PARKING MODE - Will record 24/7 even when your car is off. Built-in battery monitoring will ensure Road Angel Halo will never let your battery run flat. If voltage drops the Dash Cam will go into power saving parking mode
Bestseller No. 2
Road Angel Halo Drive Dash Cam, 2K 1440p 140° Camera, with Super Night View & HWK5V 5V Dash Cam Hard Wiring Kit, For Halo Go & Halo Drive Dash Cams, Black
Product 1: Crystal-clear, high resolution dash cam: 2K 1440p camera with 140° viewing angle and Super Night Mode
Product 1: Super-fast built-in Wi-Fi allows quick transfer of the footage from the dash cam to your phone; use the Road Angel App to share video with your insurance company, family, and friends
Product 1: Dash cam with powerful, built-in features including G-Sensor, 24-Hour Real Parking Mode, and Winter Mode; it will alert you if the SD card stops working or requires formatting
Sale
Bestseller No. 4
Road Angel HWK5V 5V Dash Cam Hard Wiring Kit (HWK), For Halo Go & Halo Drive Dash Cams + Road Angel, 64GB SD Card, Made for Dash Cams - Works on All Vehicles, both Black
WORKS ON ALL VEHICLES - 12V to 24 VDC input voltage and 5V/2A output voltage makes this kit ideal for all sorts of vehicles including cars, vans, campers, caravans, trucks, and taxis.
64GB SD Card Made for Dash Cams
RESERVES BATTERY POWER - The low-voltage protection ensures that you never run out of power. The Hardwire Kit monitors and conserves your vehicle battery and automatically cuts off the power if it falls below 11.4V.